2021 in our training programs
The year that we now know as the second year of COVID, has passed and despite the constant uncertainty, we managed to fulfil our main wish from last year – organize onsite trainings! And as online education is the reality that is here to stay, we revamped our training programs in general as well. Here's in more detail what we did this year.
Taking advantage of the online format
We kicked off this year with a Zero Waste Ambassadors training program for African community leaders. Transition from onsite to online training resulted in a new format where the group met once a week for four weeks. The time in between was for individual and group tasks that were discussed during the online sessions. This actually allowed better learning because participants had:
– enough time to put into practice what they had learned;
– a chance to compare the learnings with their own local reality;
– an opportunity to get feedback from their community members; and
– return to the sessions with questions based on reflections from their reality.
You can read more about our African training from our blog post from March this year.
Similar format was also used in our second round of Zero Waste Communities training for Trash Hero World, specifically for groups in Thailand, Indonesia and Malaysia. During 4 weeks, each week the participants watched a video lecture and had homework on specific topic, which was then discussed at an online session with local and international experts. As written in our blog post earlier this year, this training also led to a new learning tool for identifying false solutions.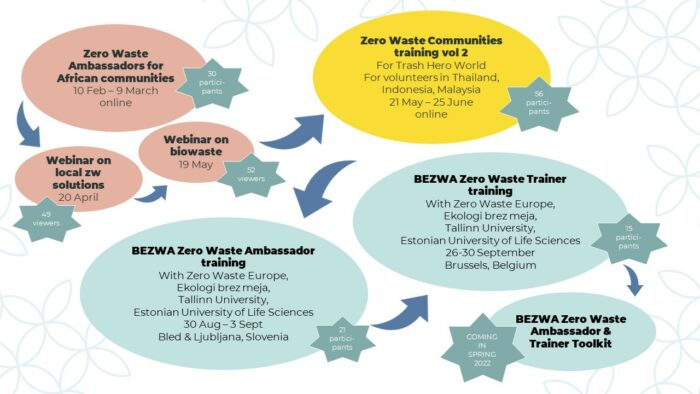 Finally onsite trainings again!
Although online trainings can be fun and interesting, nothing still beats onsite events, where we can see each other face to face, have those lunch break discussions etc. This was our long-awaited wish with the BEZWA project. After changing the dates for our European Zero Waste Ambassador training twice, it finally happened in the end of August in Slovenia. It is to point out that however challenging it may be to reschedule, it is very much worth it. We could finally go and check out some practical zero waste examples and do group exercises with all the people in the same room. You can read more about that training in here.
Despite COVID complications in autumn, we also held our Zero Waste Trainer training onsite in Brussels, Belgium in the end of September. We dove deeply into the brain processes and methods that are scientifically proven to help us teach and learn better. The participants got three days full of brain science and practical tasks on how difficult some zero waste topics might seem to regular citizens. The final two days of the training were dedicated to participants' own mini teaching sessions, where they could practice what they learnt and got feedback from the trainers and fellow-participants. This was also considered as the most helpful and insightful part of the training.
What about the impact?
Assessing the impact of teaching is not a straight-forward process. We put a lot of effort into understanding, what difference our efforts have made. We admit that we still need to get better at truly assessing impact and we are continuously improving our methods to do so. Feedback from our participants encourages us that we are on the right track.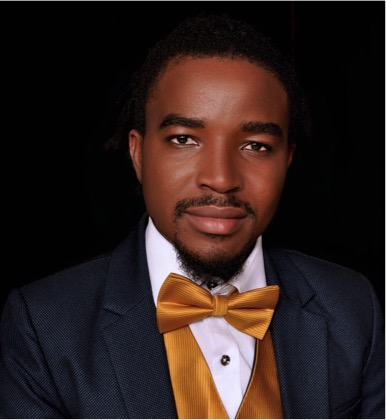 We held a catch-up meeting with our African participants 8 months after the training. Many of them said that they have become more inquisitive when looking at proposed waste management solutions and have gained more credibility within their networks, when talking about zero waste.
Abraham Freeman, participant from Liberia: "During the Zero Waste Ambassador Training, I learned that it is advisable to start with smaller Zero Waste projects before aspiring for a bigger project. Adherence to this advice our organization www.erilib.org made it to one of the seven recipients of the U. S. Ambassador's Special Self-Help Fund in Liberia." Abraham works to improve recycling in his community, for example they are creating a recycling resource centre, where they teach volunteers to recycle plastics.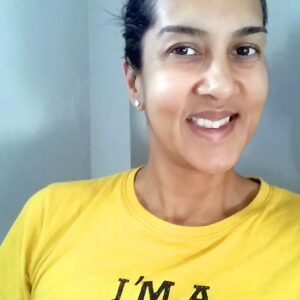 Seema Prabhu, program director at Trash Hero World, also a participant at the Zero Waste Trainer training, comments:" Working with Let's Do It Foundation on our volunteer training has had a profound effect on our program offering. It allowed us to see the potential of such education and also the appetite of our volunteers to learn. Then came the opportunity to join the Zero Waste Trainers' training in Brussels, which I grabbed with both hands! This gave us a solid foundation from which to build an ongoing zero waste education programme across our global network."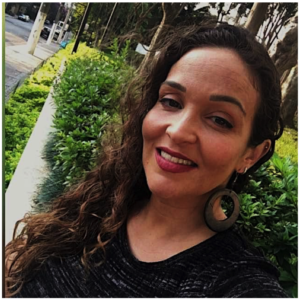 Ana Rocha, one of our trainers from Tanzanian based NGO Nipe Fagio, adds: "The Zero Waste Ambassadors training for Africa created a network of like-minded social change-makers that have similar goals and can now feed one another's inspirational and capacity building needs. By allowing a Zero Waste community to grow and best practices to be shared, it increases the possibility of advocacy for Zero Waste implementation in the continent."
Participants from the trainings have kept contact through joint events. The WhatsApp group of the participants is still active – regularly sharing news, reports and opportunities to take action.
What to look forward to in 2022?
Next year promises to be just as exciting as 2021. The second stage of our BEZWA project will entail:
– interviews with pilot participants;
– compiling a Zero Waste Ambassador and Trainer curricula and practical toolkit;
– finishing a certification system for named training programs.
You can learn about the project outcomes during the launch events in June (Brussels) and the final conference in September (Tallinn).
In February I will be spending a month in Nairobi with the UN Habitat, learning about their work and looking for ways to cooperate in waste management and circular economy education.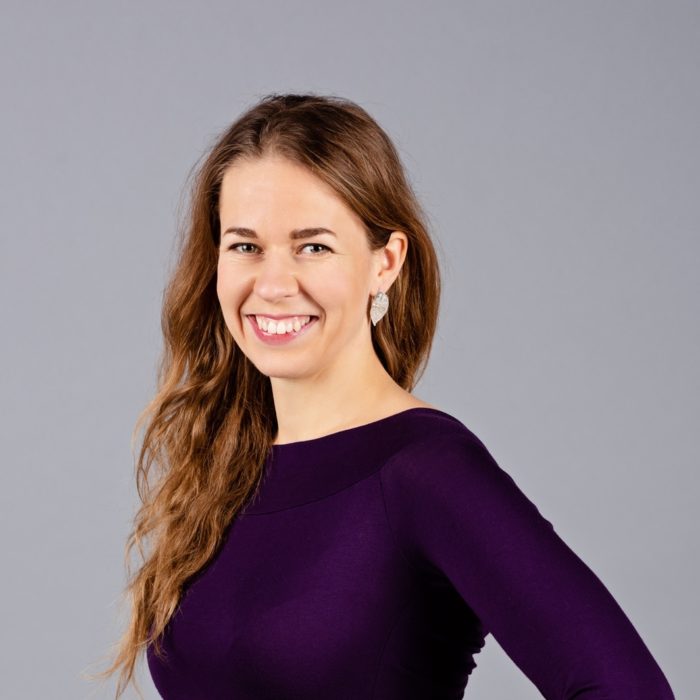 To sum up this year: all in all, people from 32 countries from Europe, Africa and Asia participated in our trainings in 2021. We thank our partners Trash Hero World, GAIA Asia Pacific, Nipe Fagio, Scuola Agraria Del Parco di Monza, Ekologi brez meja, Zero Waste Europe, Estonian University of Life Sciences, Tallinn University, Estonian Ministry of Foreign Affairs and Erasmus+ Program of the European Union, who have made these trainings happen!
Stay tuned for more news and updates in 2022!
Kadri Kalle
Education Program Manager