Sustaxo. Measuring compliance with sustainable taxonomy
We are developing a tool – Sustaxo – that helps the Estonian SMEs to gain a competitive advantage with environmentally sustainable business. It is a tool that will enable businesses to measure their compliance with EU sustainable finance taxonomy.
Being able to asses a business operation's compliance with sustainability standards is becoming ever so valuable information as the financial market is becoming more selective of the businesses they fund and expect them to meet requirements that meet the EU Green Deal goals.
We will be working with the state to develop a concept for a sustainable financial taxonomy that will allow all parties to create taxonomic reports and analyzes. Following the principles of the real-time economy, we bring together data from within the organization, partners and national information systems with the least administrative workload. The development of the idea and project is lead by Kristiina Kerge and her team Jannus Jaska, Merili Vares and Andres Aavik. The initial development will take 9-months, the first results are published already in December 2021.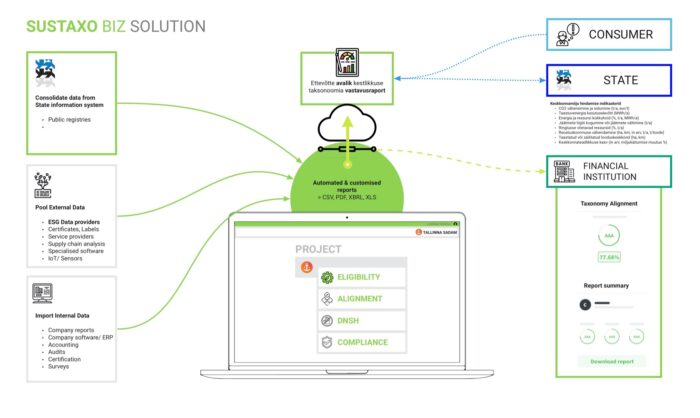 Sustaxo is selected to be part of
Accelerate Estonia
program. Accelerate Estonia is a test bed for moonshot ideas. It combines the urgency of startups and the power of the public sector to test, validate and build solutions to global wicked problems. Let's Do It Foundation's strategic goal is to develop tools that enable innovative solutions that support the (circular) economy.