Waste stories from Kenya – getting to know the locals
Time in Nairobi is flying and the city is becoming more and more familiar. In my second week here I started also to get to know some local organisations working on waste and waste prevention.
Definitely the highlight of the week was meeting Daniel from Single Mothers Association of Kenya. Daniel was a participant at our African Zero Waste Ambassadors online course last year. Since he works in Nairobi, this gave me a wonderful opportunity to meet him in person. He and Angelina, the director of the organization, kindly showed me around and shared their successes and struggles. Their organization focuses on giving different life skills to teenage mothers, and among other things teaching them to sew.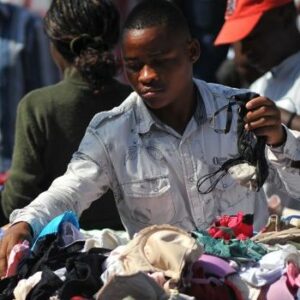 They are using leftover clothes from Gikomba second-hand market to create new products and are in this way also diverting textile waste from ending up in the open environment.
Trying to find better ways to manage their waste is very important for the organization and that was also one the reasons for joining our online course. Daniel says that it was very useful for them, starting with getting to know their waste streams. "The waste audit was an eye opener, we didn't realise before organic waste was such a problem," he says. After that they have been collecting kitchen waste separately, composting it and using the compost in their greenhouse, where they grow several vegetables. Also, teaching about the importance of waste separation to the women has become part of their programme.
Part of their centre is a small café, which is also works as a community centre for the neighbourhood and where young women can learn to cook. Unfortunately, due to COVID-19, there are no girls at the centre currently, but hopefully this situation won't last long. Much of their equipment is quite outdated and old, as the organization is dependent on foreign funds. So if you feel like you can help them somehow, feel free to get in touch with them.
My two other meetings of the week were quite literally from different sides of Nairobi. Japheth from Kutoka Urban Slums Initative shared with me his team's work on improving the life of people living in Nairobi's slums, waste pickers in particular. Most of them live and work in Dandora, one of the biggest unregulated landfill sites in Africa. Japheth's work varies from national level advocacy to basic capacity building to the people at Dandora.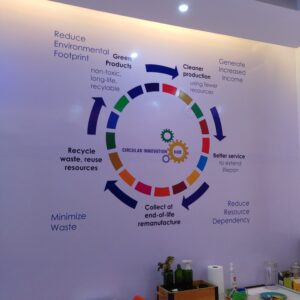 And on the other side of the city I found Simone from Circular Innovation Hub. They are a young centre, bringing together start-ups and other innovators, interested in contributing to circular economy, one initiative at a time. Since Simone is also involved in the WEEE (waste from electrical and electronic equipment) recycling, we managed to chat also about developments in that field. For sure there seems to be potential and appetite for these kind of initiatives here.
As the week ends, the UNEA is gearing up and many stakeholders from all different sectors have already arrived to Nairobi. And so the last weeks of my stay here will be much around that. You can also be part of it by registering to our small side event, read more about it here.
This post is the second in the series of impressions from Kadri Kalle on her mission supported by the Development Cooperation of the Ministry of Foreign Affairs of Estonia